"Employee
information system "
in times of Covid-19
Employee information system
Offer your visitors cutting-edge infotainment - with orientation, information and interaction systems
Intranet access for employees without a PC workstation
Current warning and safety notices
Welcome and wayfinding
Fast update of meal plans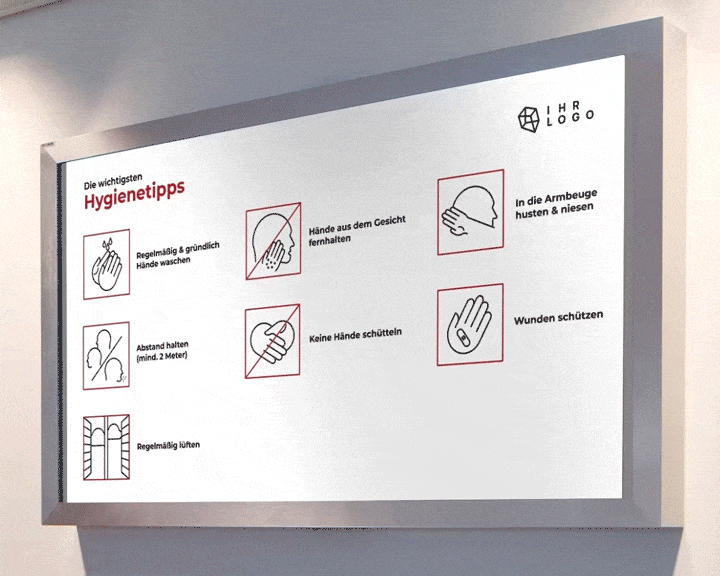 Current warning and safety information
Ensure your information and protection obligations.
Inform your staff on-the-fly about new and important information.
React and inform flexibly and quickly to new legal requirements and guidelines
Point out hygiene and safety regulations
Visualize information with easy to understand animations and videos
Internal communication
Keep your employees up to date with digital communication in all areas of the company.
Fast distribution of internal news through intranet access even for employees without their own desktop PC
Digital information board with information from different divisions of the company
Surveys and Feedback through interaction
News ticker via RSS newsfeeds, e.g. current news, traffic or weather information
Information and orientation
Welcome visitors or employees to your company and digitally guide them.
Individually welcome visitors
Digital guidance systems and site plans for orientation
Guided tours
Presentation of all kinds of information (company history, events, product news ...)
Meal plans
Employee information systems in canteens present changing menus every day and provide employees with information on dishes.
Immediate updating of the electronic menu - directly by the responsible kitchen staff
Background information on dishes: additives, descriptions, origin of the ingredients, information for allergy sufferers or vegetarian dishes
Health management information
Your benefits at a glance
Content can be updated quickly and easily
Automated processes for efficient operation
Improvement of information quality
Fast distribution of internal news even without intranet access
CI / CD conformity of the information
High attention factor through moving images
Modern and high quality appearance
Web-based content management system
Easy integration into company processes
Time, cost and resource savings
Download the information flyer
Contact Us
We will contact you personally as soon as possible.